Just announced Fall Out Boy along with special guests Jimmy Eat World are coming to Fiserv Forum in Milwaukee April 2nd….Tickets are on sale now…..but Star 98 would love to give you the chance to win a pair for playing Star Stackers with Steve and Susan each weekday morning at around 8:10. we love to send you to the STARS…..STAR 98!!! Get ticket information and purchase your tickets HERE! Star 98!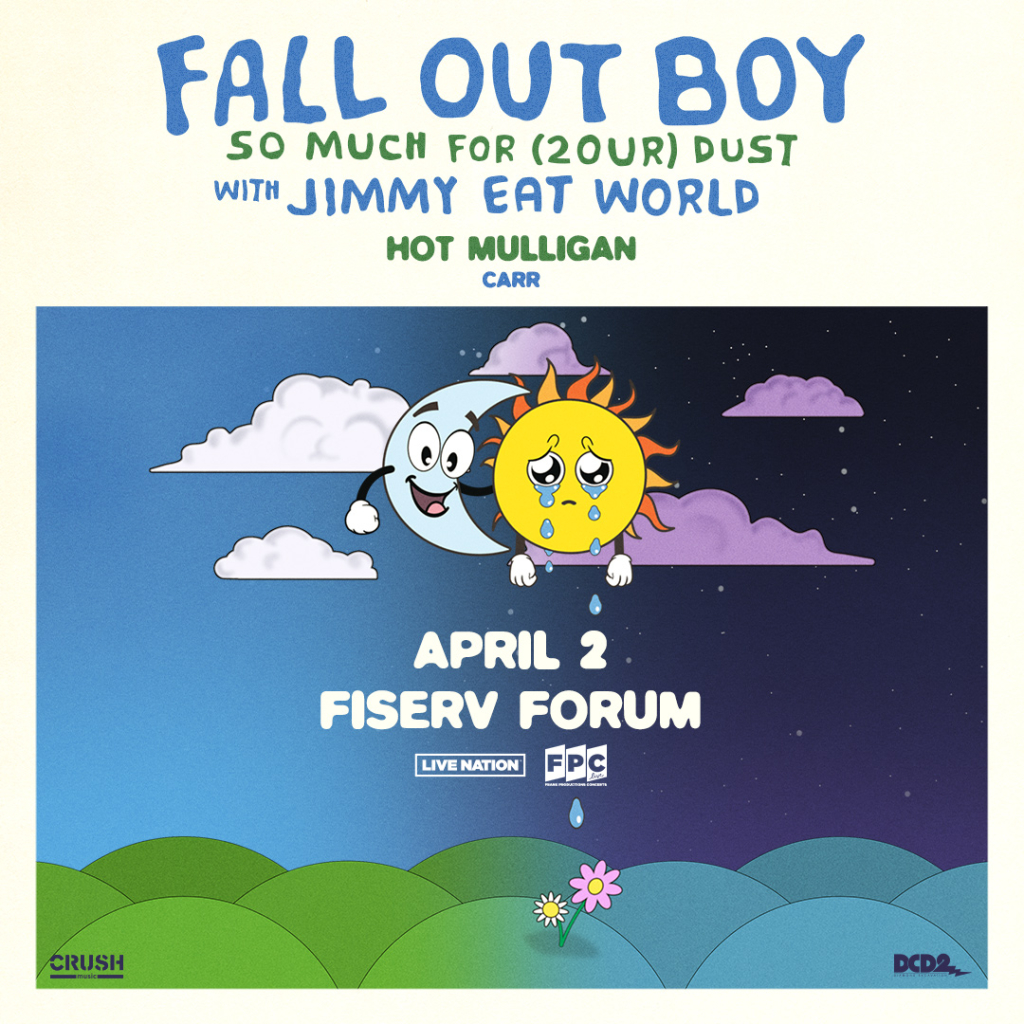 Official Press Release on the Show
FALL OUT BOY ANNOUNCES SO MUCH FOR (2OUR) DUST IS COMING TO FISERV FORUM ON APRIL 2
General Tickets On Sale Starting Friday, Sept. 15
MILWAUKEE (Sept. 7, 2023) – Due to overwhelming demand, GRAMMY Award-nominated and multi-platinum selling rock band Fall Out Boy's worldwide So Much For (2our) Dust tour will continue next year with a stop at Fiserv Forum on April 2, 2024 with Jimmy Eat World, Hot Mulligan and CARR. Ticket pre-sales for So Much For (2our) Dust begin Wednesday, Sept. 13 at 9:30 a.m. CT. General tickets will be available beginning Friday, Sept. 15 at 10 a.m. CT.
Each show includes the use of a Magic 8 Ball to surprise fans with a performance of a Fall Out Boy song that has never been played live before, which became one of the most buzzed about topics of the summer, igniting fans across social media – and spawning a trend on TikTok, with hundreds of thousands of views – to determine what songs might be coming next.
So Much For (2our) Dust has proven to be another career display of Fall Out Boy's undeniable and renowned live performance prowess, featuring unforgettable production, visual effects and pyrotechnics, and widespread praise from fans and critics alike:
"In a dazzling concert packed with Fall Out Boy songs new and old, the band proved why they still have the hearts of pop-punk lovers of all ages." – Tampa Bay Times
"At Fenway, Fall Out Boy bring the fireworks" – Boston Globe
"When they took the stage, Fall Out Boy immediately showed they're in the upper echelon of modern rock performers alongside the likes of Weezer, Green Day and Foo Fighters." – Exclaim!
"Fall Out Boy gave us more than we bargained for with a genre-defying, sensational show… The highlight of the evening came when the stage was stripped down, the backdrop dimmed and the lighting rigs lowered, creating the illusion of an intimate club reminiscent of the ones where Fall Out Boy played during their formative years. Fall Out Boy's flawless performance of their timeless anthem, "Grand Theft Autumn," reminded us of the lasting impact of their music." – Dallas Observer
"Patrick Stump, Pete Wentz, Andy Hurley, and Joe Trohman let it all hang out on stage after going through their extensive catalog of tunes that helped shape a generation of millennials who grew up choosing to proudly showcase the pop rock genre on their thoughtfully curated Myspace profile pages. The sold-out crowd flooded merchandise lines that stretched around the sunny field before the beginning of the event to show fierce loyalty and dedication to a group that continues to not only stand the test of time, but swiftly adapt in the ever changing scene known as the music industry." – The Queens Gazette
"In addition to delivering a great set of music, Fall Out Boy lit up the night with a pyrotechnics display worthy of a July 4 celebration." – Cleveland Plain-Dealer
"Fall Out Boy burn bright at Michigan's Pine Knob Music Theatre… the pop-punk titans still have plenty of sway in the area…With the combination of classics and recent hits, sparks flew at the concert (literally and figuratively)." – Glide Magazine
"We're all united in this moment. We're here for the same reason: to forget the woes of the real world and to be transported through the decades of the storylines that Fall Out Boy has so graciously given us over the past 20 years." – Cincinnati CityBeat
So Much For (2our) Dust is in support of Fall Out Boy's most recent, critically acclaimed 8th studio album So Much (For) Stardust, which debuted as the No. 1 rock album upon its March 24 release on Fueled By Ramen/Elektra/DCD2 Records and features the global smash single "Love From The Other Side."
The album has also garnered Fall Out Boy two current nominations for the 2023 MTV Video Music Awards – Best Alternative ("Hold Me Like A Grudge") and Best Visual Effects ("Love From The Other Side").
Additionally, the band currently stars in NBC Sports' B1G Saturday Night show open this season. The show open – with a chorus of "Here Comes Saturday Night" – debuted on Sept. 2 ahead of the season-opening West Virginia-Penn State game. Fall Out Boy also headlines the NBC Sports and Peacock Big Ten Football promotional campaign, appearing across NBCUniversal platforms throughout the summer and fall.
# # #
About Live Nation Entertainment
Live Nation Entertainment (NYSE: LYV) is the world's leading live entertainment company comprised of global market leaders: Ticketmaster, Live Nation Concerts, and Live Nation Sponsorship. For additional information, visit www.livenationentertainment.com.
About FPC Live
FPC Live, a division of Frank Productions, Inc., is a full-service concert promotion company involved in every facet of event management. FPC Live produces and promotes live entertainment events across the country and manages eight owned-and-operated venues. For additional information, visit fpc-live.com.
About Fiserv Forum
Fiserv Forum is a preeminent sports and entertainment arena in downtown Milwaukee that opened on Aug. 26, 2018. Designed by Populous, Eppstein Uhen Architects and HNTB, the venue offers incomparable sightlines, customer service, technology and amenities. Fiserv Forum includes 17,341 seats for basketball, 15,178 for hockey and up to 18,000 for concerts, with 34 luxury suites and three clubs. The world-class arena is home to the NBA's Milwaukee Bucks and Marquette University's men's basketball team and was selected to host the 2020 Democratic National Convention and the 2024 Republican National Convention. Fiserv Forum hosts a diverse variety of year-round events, including major concerts, family shows and other sports and entertainment events. Fiserv Forum is the anchor of the surrounding 30-acre Deer District neighborhood, which is Milwaukee's premier location for people to live, work and play. In 2021, Fiserv Forum was awarded LEED Gold Certification for sustainability performance. Founding Partners for Fiserv Forum include Fiserv, BMO, Froedtert & the Medical College of Wisconsin, Johnson Controls, Motorola, Potawatomi Hotel and Casino and Beechwood Sales and Service / Anheuser-Busch. For more information, please visit fiservforum.com.