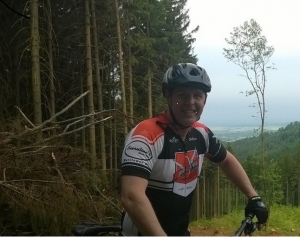 Contact Stix at stix.franklin@cumulus.com 
Being born in Milwaukee, I am a natural born cheesehead. However, I have moved around a bit. I went to high school in small town Minnesota, first go round of college in Minneapolis and decided to stay another 10+ years there.
I started my radio career at a small station in Minneapolis, and my first gig had a Green Bay tie in! I ran the audio board for legendary Green Bay Packers broadcaster Ray Scott for his "Ray Scott Sports Talk Show" on WWTC in Minneapolis. Mr. Scott was really kind to a punk kid looking to get any gig he could in radio. WWTC was sold to a company with an unusual vision of a national radio network for children called Radio Aahs. I was offered the overnight on air shift and went on to do nights and a weekly countdown show. Radio Aahs eventually was heard on more than 35 radio stations in 7 of the top 10 markets.
After Radio Aahs closed up shop I moved to Logan UT for a short stay, then Colorado Springs, CO for six years at KCS102 where I was also music director. I love Colorado and have plans to move back with my family in a few years. People ask me where my accent comes from, I maintain that I don't really have one, but it's probably from Colorado and talking with people in Nashville almost daily for 10 years.
One of my big loves in mountain biking and I got to do a lot of it in Colorado and Utah, but I love the trails right here in Green Bay too. My wife and I met mountain bike racing here in Wisconsin. We have 5 kids total, with the oldest 3 being my step-kids. I have a long time love of fitness too and that led me in 2010 to go back to college and finish my degree at UWGB. I graduated Cum Laude with a Bachelor of Science degree in Human Biology in May of 2012 and now also work as a personal trainer at Xperience Fitness in Green Bay.